What is SuperBox?
SuperBox is an English-based Android TV box for home streaming entertainment. The latest SuperBox S4 Pro has 2GB of RAM and 32GB of storage, utilizes a quad-core ARM Cortex-A53 processor, supports Android 9.0 Pie and 2T2R dual-band WiFi. By simply connecting to your TV and the internet, you're free to enjoy the smoothest home theater experience. To see the channel list, click here.
Are we the official seller?
Yes, we are an officially authorized seller, so we will able to resolve any problem with your SuperBox.
However, we are only responsible for the orders from our site. Because we receive mass messages from our customers daily. We take care of our customers, so we can provide our customers with the best service and exclusive offers.
At the moment, many customers report that they purchase from others, and their boxes have problems that can not be fixed, some of them lost contact with the dealer.
Does it require to connect WiFi?
Yes, to ensure enjoy HD streaming, we recommend that the TV box stays close to the WiFi router, with at least 10 Mbps internet speed. If you prefer ethernet connection over WiFi, you have that option as well.
What are the internet speed requirements?
Our minimum recommended internet speed requirement for operation is 10 Mbps, however, as an internet streaming device the faster your speed the more enjoyable your experience.
How many TV's can access the same box at the same time?
One TV accesses One box. Currently, the Multi-screen feature is unavailable. However, our developers are doing their best to see if we can get a suitable partner for this feature to be possible using our services.
Does TV need to be a 'smart' tv?
You don't need a smart tv. All you need is a TV with AV or HDMI input and an internet connection.
How to set up after receiving superbox?
SuperBox is a plug and play tv box. We've created many tutorials about how to set up and tutorials of SuperBox. To set up your SuperBox, please check SuperBox S4 pro setup
What is the range distance from the box for optimum viewing on a TV?
The box requires HDMI (include in the package) to connect with TV, the closer the better
Can you play App Games on this TV box?
Yes, but we don't recommend to play large RAM games, that let the TV box overheat. The main purpose of this TV box is for entertainment streaming. If you would enjoy gaming, we recommend NVIDIA SHIELD TV Pro.
What is our warranty policy?
SuperBox warranty period lasts one year. If there are any problems with your SuperBox android tv box, please contact our customer service. First, to save your time, our technical support will do the best to help you to solve the problem. For the worse case, if your hardware gets into trouble and you won't able to fix it, you can send the product to us and we will repair it for free within one year. If your warranty period gets expired, you can still send the device to us for repair at a separate cost. You're still able to enjoy the service once the device has been fixed. 
Is superbox legal?
SuperBox is a legal android device. We provide hardware, it is up to customer's choices to install Apps.
Does SuperBox work in my country?
SuperBox works almost anywhere in the world if you have a high-speed internet connection. You can bring it for traveling use.
Can you carry in your travels?
Due to its lightweight design, you can also bring SuperBox in your travels and plug it in hotel rooms. SuperBox is a perfect travel companion.
Is a vpn required?
Vpn services or ip unblocking services are not required to operate SuperBox S3 Pro.
Orders & cancellations
How to place an order?

Once you have finished adding items to your cart, simply click the "check out" button on the shopping bag page and we will guide you through the checkout process.


Which methods of payment do you accept?

We currently accept PayPal.
you can select PayPal  checkout or login/create PayPal account..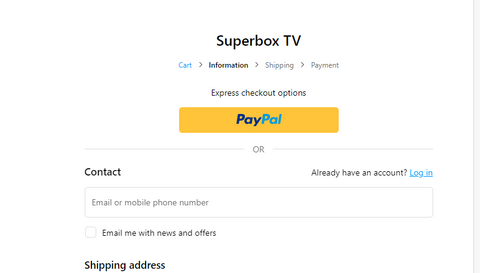 PayPal is the securest payment method for customers with buyer protection so far.

If you are receiving an error message while attempting to checkout, please Contact Us.

How safe is my personal information?

Our site uses a secure sockets layer (SSL) protocol to encrypt all personal information sent during the check out process, and we do not store any of your payment information.


Can I change or cancel my order?

We start working on your order as soon as you submit it, therefore it's very unlikely that we can change or cancel it. If your order was made in the last 24 hours, please contact us and we will do our best to make it happen.
Do you have a return Policy?
Yes, if your device is defective and you are within your 1 year warranty period, we will either repair or replace your unit free of charge.
Do you provide support?
SuperBox is dedicated to providing ongoing, after sales support and technical support. Our valued customers will receive email response within 24 hours.