SETUP AND REVIEW OF SUPERBOX
Sep 26,2023 | superboxmax Admin
SETUP AND REVIEW OF SUPERBOX
Today we will be discussing the latest android box available. This is a remarkable device. It's the SuperBox S4 Pro fully-loaded, voice-integrated android box.
It's the best thing on the market.

Okay, so before we show you all of the cool features of the android box, let us talk about who this box is intended for.
What does it mean that the box is fully loaded? This box will have a free, live TV for the rest of your life.
You will be able to watch movies and tv shows whenever you want. You can also use the Playback app to catch up on your sports and news.
All that you need will be provided in your box for the rest of your life. Superbox has been around since years and it has never fallen in price. This has been a great experience. I have saved tons of money by getting rid cable boxes. These are amazing.
This particular box is a step up from their older models. You may be familiar with Superbox, monster box, or any other fully loaded boxes. They're great; they're fantastic. They have some great specs, but this one is different.
This remote has a fully integrated voice command capability.

This is the case with the new Superbox S3Pro.
This is insane. All you have to do is press the blue button and speak into it. You can choose any channel, watch whatever movie, see whatever actor, or just enjoy the films of whatever director you like. I can now say,"Take me to the NFL Red Zone" and I am completely free.
Talk pay-per view UFC, take me to UFC, take me to UFC pay-perview channel.
You can do anything you want from this remote, and I'm going show it in just a few seconds here on TV.
What kind of customer is this? This is for someone who wants to eliminate their cable bill completely. You only pay one initial fee and then you are free.
Let's jump on to TV and take a look at all its cool features.

This super box is amazing. Superboxes have been a great way to save thousands or even thousands of dollars for our customers.
Let's also take a look at the features it has.
You don't need to preload anything. Everything is already preloaded. All you have to do now is to set it up.
SUPERBOX S3 PRO SETUP
It is easy to set up SuperBox S3 Pro. Watch our YouTube video how to set up superbox s4pro.
✔Install wifi & internet
Your settings are located at the bottom of the screen. This is where you will find your passwords.
You do it by clicking your settings, you go over to network and Internet and you're done. It's really easy, guys.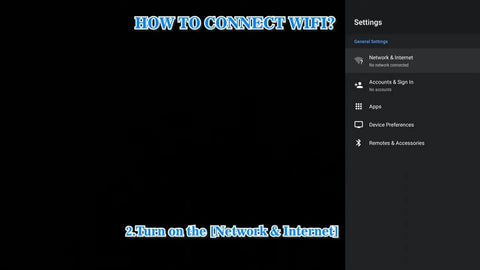 ✔Install bluetv & bluevod & playback
Superbox has built-in, BlueVOD, BlueTV, PlayBack these are the three big ones. and the install is very easy just like before said. BlueVod going to be your on-demand movies, BlueTV going to be your live tv, and Playback going to be your playback if you miss maybe a sporting event or news or something like that. And of course if you have a VPN, you can put the expression on there; Film plus is a good, movie plus is another great blockade; if you want to block those ads on those other third-party apps and a few other series, you can see all these that you want .If you need them, click on it download it.For example, I wanted Hulu; I click on that, it starts the download process, just takes a few seconds, and you can download multiples simultaneously;Go back to your home screen and add your live TV. If you want to add Hulu to my live tv section click Add and then select Hulu.
You could do that. Let's do it again. It's there. We'll playback the same thing again.
Just place your playback there. That's it!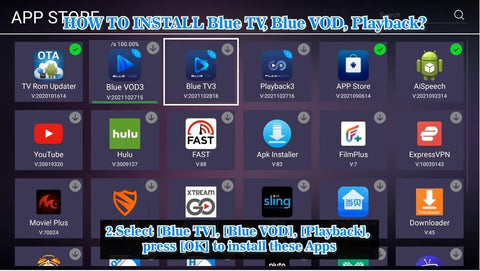 ✔ Uninstall apps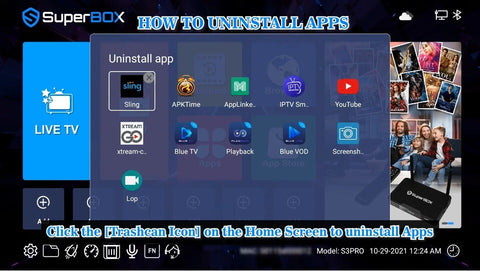 ✔Setup shortcuts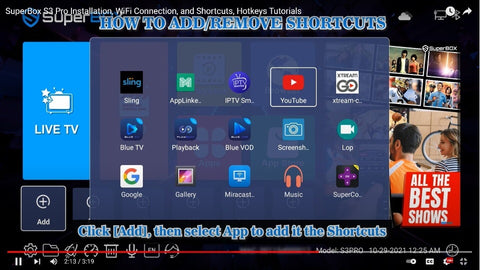 You'll find all the important buttons at the bottom.
In a moment, you'll see it. Here's the screen. You can move around here right now. All your apps will be in the app section so they'll be down here.
CLEAR THE CACHE OF THE SUPERBOX S3 PRO
This is where you will download any updates. If you need to clear your cache, background apps, or slow down your computer after it has been running for several years, click the rocket ship. It's easy, just one click, and it clears up all your system memory. It's quite amazing.
Trash icon is where all your trash can be found.
Microphone Icon allows you to get help or Support for the box. This is fantastic, but you can't get help with boxes with any other services. So let's get down to the good stuff. What is it that makes this box stand out from the rest?
We now introduce the voice capability. The voice capability and searchability are the most important aspects. You can find these programs on many boxes but only this box has the voice capability to locate them. So, for example, you could get a certified google box. It's possible to use the Google ai voice. You can't use it with third-party applications. This works only with third-party app that make it unique. It's not available anywhere else. I'll show you one example. I just need to press the voice remote and say TV. Now it's loading up tv.

Think about the channel that I was last watching. You can change the channel to see the weather. It changes the channel to the weather channel.
You can find tons of ESPN channels here. Just say "ESPN"
You'll see that this box comes with tons of ESPN channels; you don't need to pay for them regularly. ESPN news, ESPN plus all the ESPN plus channels, and even Spanish ESPN, are all available. There are tons and tons of ESPN channels. The same applies for NFL. Let's say that "NFL" is Sunday football. If it pulls up NFL, it will pull up the NFL Network, NFL Red Zone, which includes all the games.

I'll also show you the games that are coming up. So we have colts against bills. You can see all the games and know when they will be on by asking.
HOW TO ADD CHANNELS TO YOUR FAVORITE LIST
If I want to see regional media and I live in Columbus, then I would go to ABC Columbus. To do this, hold down the okay button for three seconds and you will see a star. Now, when you go up the favorites, which should be at the far left, click on it and you'll find the Columbus channel.
SUPERBOX S3 PRO CHANNELS
All the channels are listed here. Do a quick overview. Once you have your favorites, your network tv network's going will be all these channels. I'm going to just go through them really quickly so you can see exactly how many channels you have. You can visit our website to view the complete channel list. (a) 24X7 channels, which I know many of our customers love. You can also find pay-per view events here. You can see that there are events happening every day. (c) NBA means you get the complete package. All the games for the NBA will be included in the (d)NFL. You have major league baseball and the NFL. (e) NCAA football. All your college games are right here. It's super simple. You have a hl package for college basketball. Now you have music channels. If you would like to listen to music, here are all the (f), Canadian channels and (g) Latino channels. (h) SUPERSPORT channels, which is new, (i)MLB and (j)NHL music, and then that seems like it is it as there are many channels here. There are many.
There are thousands of channels, which is crazy, but it's easy to find what you're looking for.
SUPERBOX S3 PRO BLUEVOD
If you don't know what Bluevod is, it's the name of the site that contains an incredible number of movies. Let's take a look.
You can also save favorites or tv shows to the top. How many movies were? It was approximately 12533 films. There are many movies here and I'm going show you how to voice them all in just a few seconds. Once you have your tv series, there are about two 2/391 series. You can also check by genre. If you enjoy documentaries, you will find all of them here.
You can say "tom cruise" if you're a huge fan of I don't know Tom cruise. It will pull up all tom cruise movies and any other tv series he is affiliated with.
You can see that there are many Tom Cruise movies. The same applies to a director. Let's say Steven Spielberg. It will display all his movies. Pretty cool, right? This means that you should make sure to uncheck it when you search for another movie, or anything else.
BlueVOD is great. They are high quality and don't buffer. These boxes are amazing and I am very impressed with their quality. It takes only a few seconds to load the boxes, then it plays flawlessly. It works great, even though I don't have the fastest wi-fi in my office.
The new Superbox is a super box. This box has so many great features and apps. You can add your own apps to it. You can get another box, an Nvidia shield or some other freebies. If you are a tech-person, you should go for it.
I have several boxes that I use like this all the time. To be fair, most people want this. They want to eliminate their cable bill. They want the box built in. They want the ability to maintain the box. I know some people will say, "What if the service goes down? I have been using this box for three years and it has never stopped working." How much did this save me? Superbox s3 Pro is the new, brand-new box for fully loaded Android boxes.